Content Strategist
Dani Plicka
What is ClueCon?
ClueCon is a conference for developers by developers: an annual technology conference hosted by the team behind the FreeSWITCH open source project. ClueCon gathers together various open source projects to discuss Voice over IP, open source software and hardware, Telecommunications, WebRTC, and IoT. The 2023 conference is taking place August 14th-17th.
ClueCon offers something for everyone, from a software developer playing with new ideas to the CEO of a technology company looking to take advantage of real-time communication. It's a comfortable setting for developers of all kinds with lots of opportunities for networking and sharing ideas. ClueCon is like no other conference, so if you'd like to see interactive demos, creative problem solving, predictions about the industry, cool tech passion projects, or you'd like to learn more about open source platforms and how to use them, we hope you'll consider supporting us by attending or sponsoring!

ClueCon isn't just educational though – we know how to have fun too! The evening events like the Gigabit Reception are a great way to meet fellow developers and chat with leaders in the world of open source telecom. Enjoy drinks, board games, hors d'oeuvres, video games, the popular underground guitar jam session and the highly anticipated ClueCon Karaoke. Every night of the conference offers festive networking opportunities, and plenty of chances to explore Chicago!
At the first ClueCon in 2005, an aspiring team of Asterisk software developers wanted to push the envelope and gather all of the open source projects into one place. They shared their wisdom and made open source communication a disruptive force in the industry. Inspired by the first ClueCon, that same group of developers created a brand new open source communication application known today as FreeSWITCH. Who knows what big idea is just around the corner?


About ClueCon Sponsorships
Have you been searching for the perfect opportunity to get brand recognition from a global audience? Maybe you need to get your name or new idea out to a community of developers, you want to do some networking with brilliant telecom professionals, you want to shape the future of communications technology, or you just want to support the FreeSWITCH project.
If any of these priorities resonate with you, consider sponsoring ClueCon 2023! ClueCon attracts some of the best and brightest innovators in the industry from around the world. Help us make it all happen and your brand will be recognized globally as supporting the future of the industry while you build lasting connections. Not to mention, all levels of sponsorship come with conference passes for your team to join the fun at ClueCon.
ClueCon will be taking place August 14th-17th at the Drake in Chicago, and the sooner you sign up to sponsor, the more recognition you'll receive! There are various levels of sponsorship available, so you'll get the kind of exposure that suits your brand's needs. Whether you want an exhibit booth to share your ideas, or you just want to see ads with your logo getting out to our broad social media audience, there's something for everyone.
Thinking big? Opportunities are still available to host a branded evening event! Too big? We've got you covered: sponsor the snacks for our hack-a-thon, host a private meeting space, or have us air your company commercial during the conference. Five levels of sponsorship are available at varying prices, from 16bit all the way to 256bit. You can find out more about sponsorship opportunities or meet with us to discuss your ideas by reaching out to info@cluecon.com.
You can see a brief overview of the sponsorship benefits below: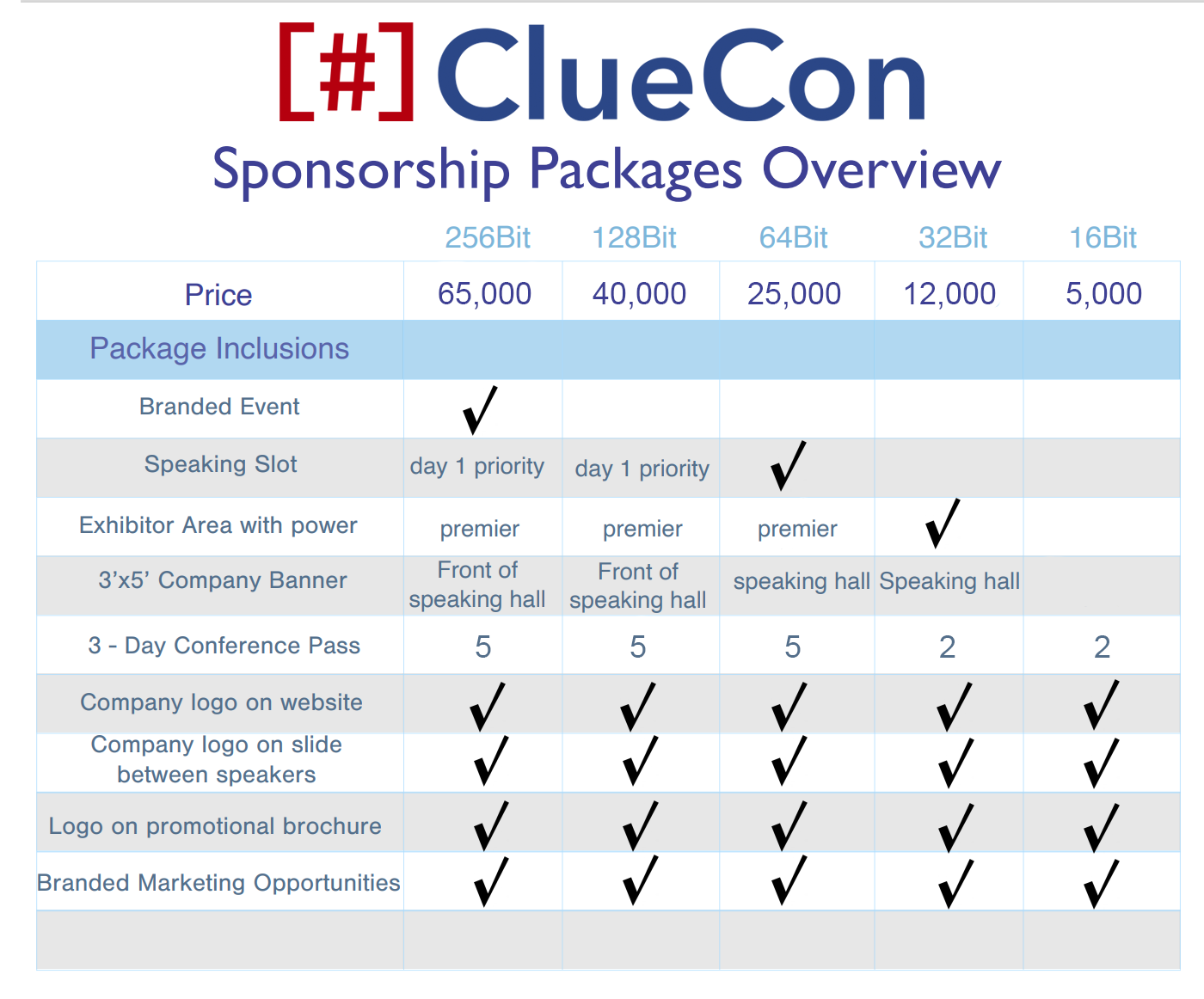 Other benefits for sponsors include discounts on additional ClueCon tickets, opportunities to speak on the ClueCon Weekly podcast, featured segments in the FreeSWITCH newsletter, co branded lanyards, and more! Reach out to the team to get all the details or set up a meeting to discuss your ideas.
We can't wait to see you there!