Getting familiar with SignalWire Work rooms
Once you enter a room, SignalWire Work typically presents you with one or more of the following:
A video layout consisting of room participant panels featuring live video feeds or avatars representing telephone participants or those who have muted their video
Screen sharing
Chat
Familiarize yourself with some of the main elements on the screen:

Overall video layout
Participant panels
System menu
Main menu
Settings submenu (in the Main menu)
Help Menu
If you have moderator privileges, you will also see the following:
Participant menus (one for each Participant panel)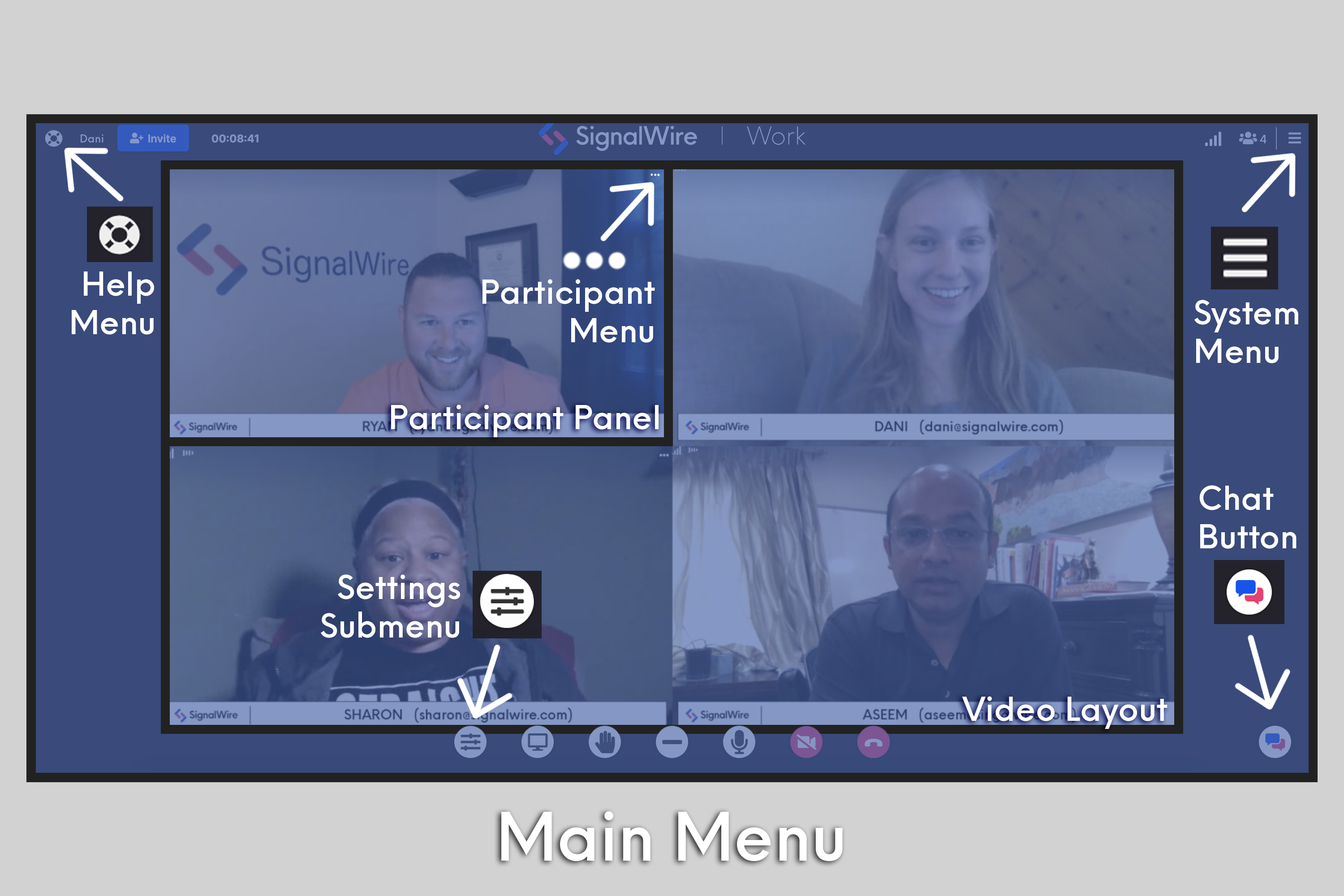 Video Layout
Typically a room with two participants simply features the other participant in the main portion of the video layout with a smaller thumbnail video to monitor one's own video feed.
For any room with more than two participants, the layout of the individual participant panels is identical for all participants.  Unlike other video conferencing systems, where the screen layout may vary by user, SignalWire Work displays the same layout to all participants for larger conferences.  As such, if a participant shows up in the upper left corner on your screen that participant shows up in the upper left corner for all users.
The room moderator controls the overall video layout scheme to best suit the nature of the conference.  Popular video layouts include highlighting the active speaker or the grid ("Brady Bunch") views that have become popular to show all room participants simultaneously.
Muting and umuting you audio and video
SignalWire Work enables you to mute and unmute your audio and video feeds using the buttons on the Main menu. The microphone and video conference icons toggle your devices on and off.
| Button | Action |
| --- | --- |
| | Microphone is on; click to mute |
| | Microphone is off; click to unmute |
| | Video camera is on; click to mute |
| | Video camera is off; click to unmute |
Note that your conference moderator also has the ability to mute your audio to minimize ambient conference noise, so you may have to unmute yourself if you resume speaking.

Tips
When you mute your video, SignalWire Work uses a globally recognized avatar from gravatar.com associated with your email address. To display a custom image instead of the anonymous avatar, sign up with your email at gravatar.com.
Getting help from SignalWire
You can request help from SignalWire or search the knowledge base right from within the SignalWire Work interface.
To request help from SignalWire:
Click the lifesaver icon in the upper left of the screen.


The help panel appears on the left side of the screen where you can search the knowledge base or initiate a text chat for assistance.
Leaving the conference
To leave a conference:
Click the handset icon in the Main menu.