This Year in SignalWire Product
In the final month of 2022, we refined our existing products and began staging new features and products for release in the new year. First, let's look at the products, improvements, and fixes we have released this year.
The Campaign Registry
The Campaign Registry requirements have taken shape over the course of the year and continue changing even now. Beginning with the mandatory registration of all 10DLC messaging traffic in March, we have kept you informed as fees and information requirements change. These changes included the addition of a $15 vetting fee announced in July and the removal of T-Mobile's one-time $50 fee on campaigns in September.
We have also refined our questions and methods for gathering your information for the registry process so you can get your applications up and running as quickly and efficiently as possible. See our guides on the documentation portal for everything you need to know about TCR registration.
In April's Fresh off the Wire, we announced the requirement for Toll-Free verification to use messaging from Toll-Free numbers. While this verification process is independent of The Campaign Registry (TCR), it marked heavier oversight for messaging.
As it stands now, all messaging traffic must be registered either with TCR for 10DLC numbers or verified via the SignalWire Toll-Free Verification form for Toll-Free numbers. We keep a close watch on the changes as they are announced, and we try to simplify the process as much as possible to get you messaging-ready as soon as possible. See our December Developments section below for more on the latest tool for you.
RELAY Realtime SDK
In May, we announced the full integration of all namespaces of RELAY services – Voice, Messaging, Video, and Chat – in one version. This improved SDK for server-side development allows your JavaScript application to access all of the RELAY services from one source. We were very excited to share this new product with you because our RELAY services are the closest you can get to sending and receiving data in real time to help you create dynamic and robust applications combining many different kinds of communication channels.
Since then, we have continued to add features, add methods, and fix bugs each month. You can read the full release notes for both the RELAY Realtime server-side and client-side SDKs on our GitHub Releases page.
Video
Our Video products have had quite the transformation this year. Back in January, we had just added support for Room Previews in Video Rooms (and Programmable Video Conferences, previously known as Embeddable Video Conferences). Our Video products evolved as we added functionality. In March, we revealed Dashboard improvements to manage basic embeddable video rooms, then added Room features such as a participant list and device picker in April, leading to a comprehensive launch of all resources in May. In August, September, and October, we released more advanced features: SIP/PSTN inbound calling, integrated Chat, RTMP streaming, and a layout selector. Also in October, we released the Video Conference AppKit, the Stencil component library behind Video Rooms, which packages Video Room components for use in front-end frameworks.
Our Video products have always had the advantage of being built on a Multipoint Control Unit (MCU) which sends a single stream to each participant, resulting in low latency, high quality, and the same view for every person. Our additions this year make it even easier to enjoy superlative videoconferencing at any level of development experience. Keep an eye out in the new year for even more Video Room advancements.
Chat
Chat was first introduced as a standalone product in January with a comprehensive walkthrough in the February Fresh off the Wire. At that time, you could create your own chat application that was essentially a pub/sub messaging bus using the Chat token API and the Chat Client available in the JavaScript browser SDK. In May, we created a separate PubSub namespace and PubSub token API to keep the minimal PubSub functionality available to users as Chat continued to develop.
Over the next several months, we added more methods to the SDK's Chat Client before announcing the integration of Chat into our Video Rooms in September. As Chat has become a ubiquitous element in videoconferencing, we are happy to offer the tools to create a standalone Chat application, add minimal pub/sub or chat functionality to larger applications, or enjoy the prebuilt UI and functions of our integrated Chat.
Documentation
As we added new products and features, we naturally produced a lot of new documentation content on our Developer Portal. In fact, even the landing page for the portal was redesigned in March. Each month this year brought guides for new products and subtle reorganization to keep improving the user experience. The most recent improvements announced in November were the addition of several guides for users new to SignalWire. We will continue to improve the portal to make it accessible and user-friendly to all levels of developers.
Dashboard
As the management hub for all of SignalWire's products, your Dashboard has naturally evolved as new products are introduced. As in other product areas already mentioned, one focus this year was the user experience of the Dashboard for both experienced and new users. In February, that included new resource usage charts, and we offered even more detailed usage logs via new Billing API endpoints in June.
We introduced support plans in March to provide flexible support options as your business evolves through development, production, and maintenance. Then, in July, we walked through the difference between those support plans and the newly added Platform Subscription Bundles which offer tiered product service bundles depending on your usage needs. For the latest Dashboard improvements, read our December Developments section below.
Community
Another major SignalWire focus this year is our community. Previously, community engagement took place in the SignalWire Slack channels or one-on-one through support tickets. In June, we announced three major community initiatives:
A Community Code Bounty to give $500 to every developer or team that submits a unique open-source application backed by SignalWire APIs.

Monthly Office Hours to connect directly with our experts about the topics you want to discuss. As of now, we are hosting office hours twice a month, one on the third Wednesday of the month for general questions and a second one with Messaging and Campaign Registry experts to answer Messaging-specific questions on the fourth Wednesday. A SignalWire events calendar to track these and other community events is coming to our website soon.

Community-supported Libraries to facilitate development with SignalWire products. The community is encouraged to contribute new components, features, and fixes. The React library has already inspired several React guides on our developer portal.

In October, we introduced a community forum to join Slack as an interaction platform. Community members and SignalWire staff can come together to post and answer questions, discuss development and usage topics, or even start a debate on whether Star Trek is better than Star Wars. Our goal is to encourage communication so we can develop the products you want to use and answer the questions that you have along the way.
December Developments
Our December news is full of Dashboard improvements.
First, as part of our goal to demystify The Campaign Registry signup process, we have added a new wizard to guide users through each step of the process: brand creation, campaign creation, and phone assignment.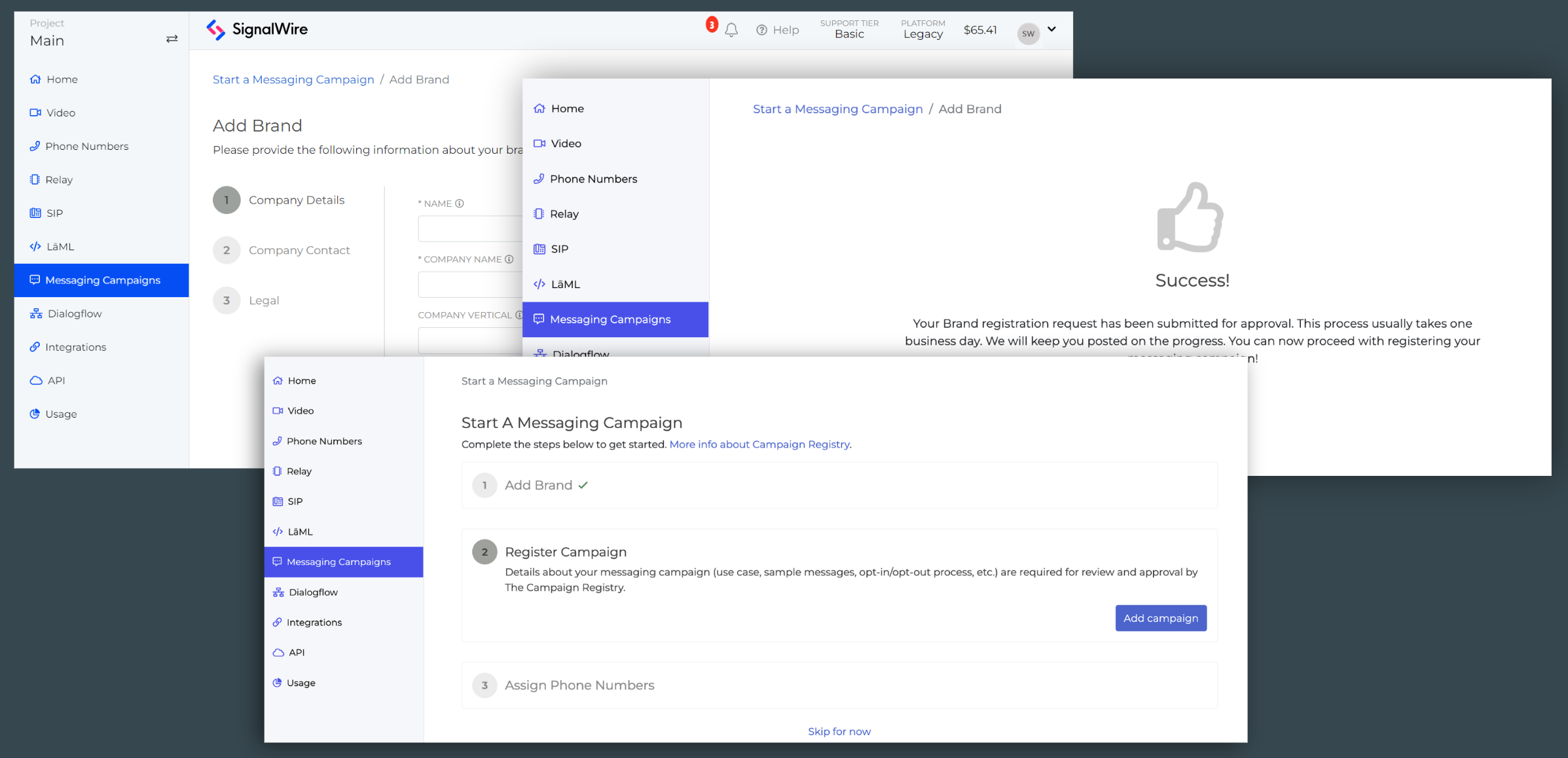 Highlights of the wizard include:
A new screen that highlights the three primary steps in getting a campaign registered. Upon completion of each step, the user will be sent to this screen to see their overall progress and a short description of the next step.

Forms were moved from a single screen with all fields displayed to a step-by-step format that walks through various sections of the form with related questions.

The phone assignment screen will now show available, unassigned 10DLC numbers that can be added to the assignment order for the selected campaign with the click of a button. Previously, users had to type or paste a formatted list of phone numbers into a text box. Additionally, if the customer has never purchased a 10DLC number, there is a new modal popover that allows them to purchase new numbers without leaving the screen.
Our second update is for new users. New spaces will require a verified number as part of the signup process. As of now, phone numbers that are verified on the SignalWire network can only be used with SignalWire as a caller ID for placing outbound calls. However, this new requirement is laying the groundwork for more verified number functionality. Watch for more on that over the next few months.


See you at the end of January for what's new in SignalWire Product. Same Bat Channel. Different Bat Time.