Let's Continue Our Chat
We have been busy integrating and improving the new PubSub / Chat feature we revealed in last month's update! As promised, here is a quick tutorial on how to implement Chat:
Step1 is always including the SDK in your HTML
Step 2 is getting an authorization token. We've created new public endpoints for demo auth tokens for both Chat and Video, so we can grab an access token for this example (and you can too!) without creating a backend server using personal SignalWire credentials.
Step 3: With that token, you can initialize a chat client and subscribe to channels.
Finally, Step 4 is sending and receiving messages.
As you can see in our example, we display the chat in a collapsable component with a button in the corner of a videoconferencing application. Where and how you want to incorporate chat functionality in your application is up to you! We'll just give you the tools you need.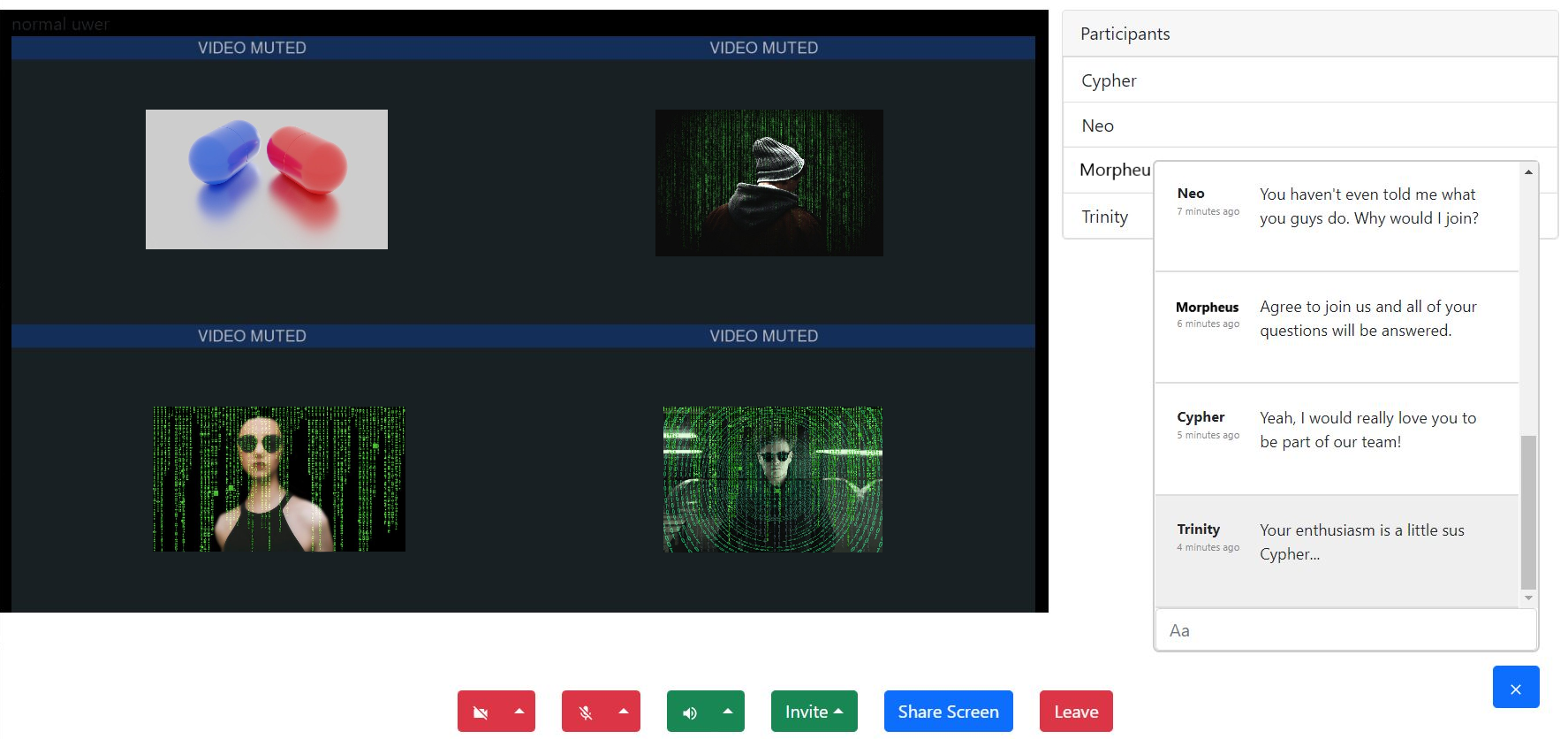 Keeping Up with The Campaign Registry
If you use 10DLC numbers for business-to-consumer messaging, you have heard about the major changes in 10DLC with Campaign Registry over the last couple of years. Maybe you even saw our earlier post on AT&T's 10DLC Launch and Campaign Registry Updates. Here's the latest to keep you in the loop:
On March 1, 2022, we passed the deadline for registering all A2P 10DLC campaigns with The Campaign Registry. No unregistered traffic in the US will be permitted, so if your campaign isn't registered and you want messages to be delivered, get your campaigns registered ASAP!
Also as of March 1st, T-Mobile began charging a one-time $50 fee for these campaigns.
This $50 fee is added to your bill upon approval of each campaign. Some philanthropic and non-profit campaigns may be exempt, but this will be at T-Mobile's discretion on a case-by-case basis. If your campaign turns out to be exempt, a $50 credit will be applied back to your account.
Upgraded Messaging For Registered Campaigns
On a positive note, we have upgraded our approach to messaging throughput.
Previously, each 10DLC number could send a static one message per second. Now, we utilize the AT&T Message Class and T-Mobile Brand Tier which is assigned during registration with The Campaign Registry to independently determine the allowable throughput for each carrier.
AT&T imposes throughput at a segments-per-minute rate. This rate is calculated at the campaign level for most Message Classes. Some very specialized Classes are calculated at the number level.

T-Mobile imposes throughput limits at a daily rate at the brand level. This means that the rate is calculated based upon all messages associated with a particular brand, across all of that brand's associated campaigns.

Any traffic sent to other carriers, or as unregistered traffic even to the carriers above, will remain at our current allowed throughput of 1 MPS per number.
SignalWire rolled out changes necessary to support the allowed throughputs for these carriers on January 31. In most instances, this change resulted in an overall net increase in the number of message segments that can be sent per second by a SignalWire customer with registered campaigns, assuming the messages are spread across a mix of AT&T, T-Mobile, and other carrier recipients.

Usage Charts!
Been hankering for some basic data biz in your SignalWire dashboard? We have a gift for you.
You will now find these usage charts in your SignalWire Space.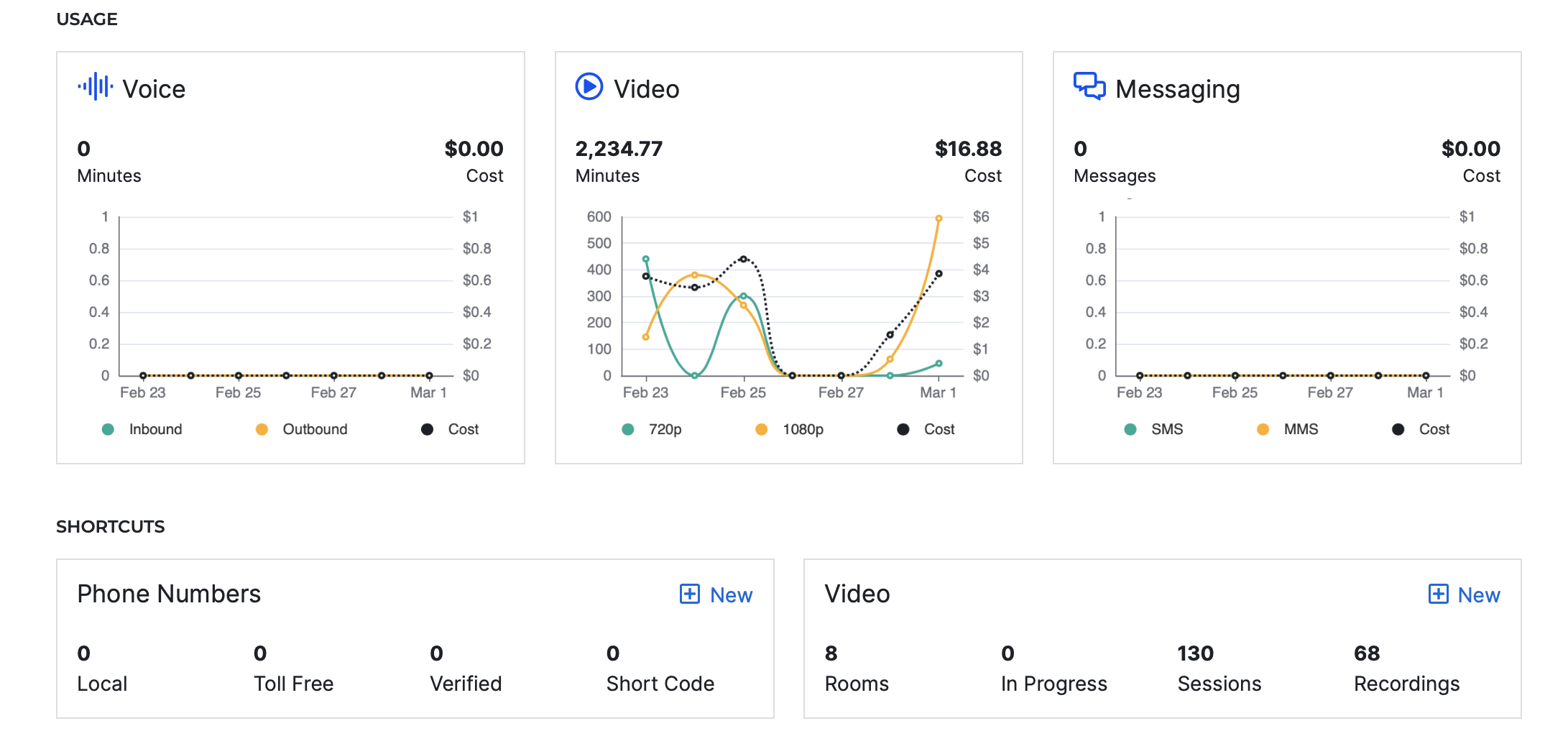 You'll notice charts for voice, video, and messaging that show both the amount of each resource used and the amount you spent.
These charts will reflect your last 7-days of activity, but the full usage history page remains accessible from the side navigation.

What Else is New in the Developer Toolbox?
A VueJS Videoconferencing Sample App. We've published an open-source demo using the SignalWire Video API, JavaScript SDK, and the popular Vue 3 JavaScript web framework to demonstrate how to build a videoconferencing web app with VueJS. The bonus? It is already capable of scaling using the SignalWire Video API and Javascript SDK. Find the full sample code on Github.
Refurbished Video Conferencing API and Chat API Docs. We've added more guides like First Steps With Chat to get you started on building your own Chat app. We incorporated a Chat introduction into our Getting Started with Client SDKs page. And, while we were at it, we also retouched the Video Conferencing API Intro and Video Demo docs.
We have introduced an additional Member List Event for Video Room Sessions: memberList.updated. Use this one to build a dynamically updated list of members in a room. Subscribing to this single event can replace manually keeping track of member.joined, member.updated, and member.left events to keep your UI updated.

SignalWire Space usage limits have been updated, so if you are hitting limits, see our guide on How to Request an Increase to Your SignalWire Space limits.
And Soon…
Expect news on some major updates to our RELAY Realtime Communications API, significant improvements to Embeddable Video Conferences, and streamlined media storage.
Same Bat Channel. Different Bat Time.