VP of Product
Aseem Asthana
All of us here at SignalWire are incredibly proud of our latest product, the new Video APIs. The APIs allow you to quickly add video interactions to the applications that you are developing. Our innovation is that we pre-render the component video streams in the cloud. This innovation enables you to create innovative applications since dynamic transformations are simple and applied consistently to all the participants, and processing is offloaded from the clients to the cloud.
Increasing demand for video
The demand for enabling video in all kinds of applications has been increasing continuously for the last five years. People want to see each other and not just hear each other. As an application developer, you need to allow the users of your application to see each other if you want to be in the race.
Even then, just enabling your users to see each other is not enough anymore. Any application can do that. You need to build a unique and innovative application that taps into your customers' need to connect - parents with children, patients with doctors, and friends with each other.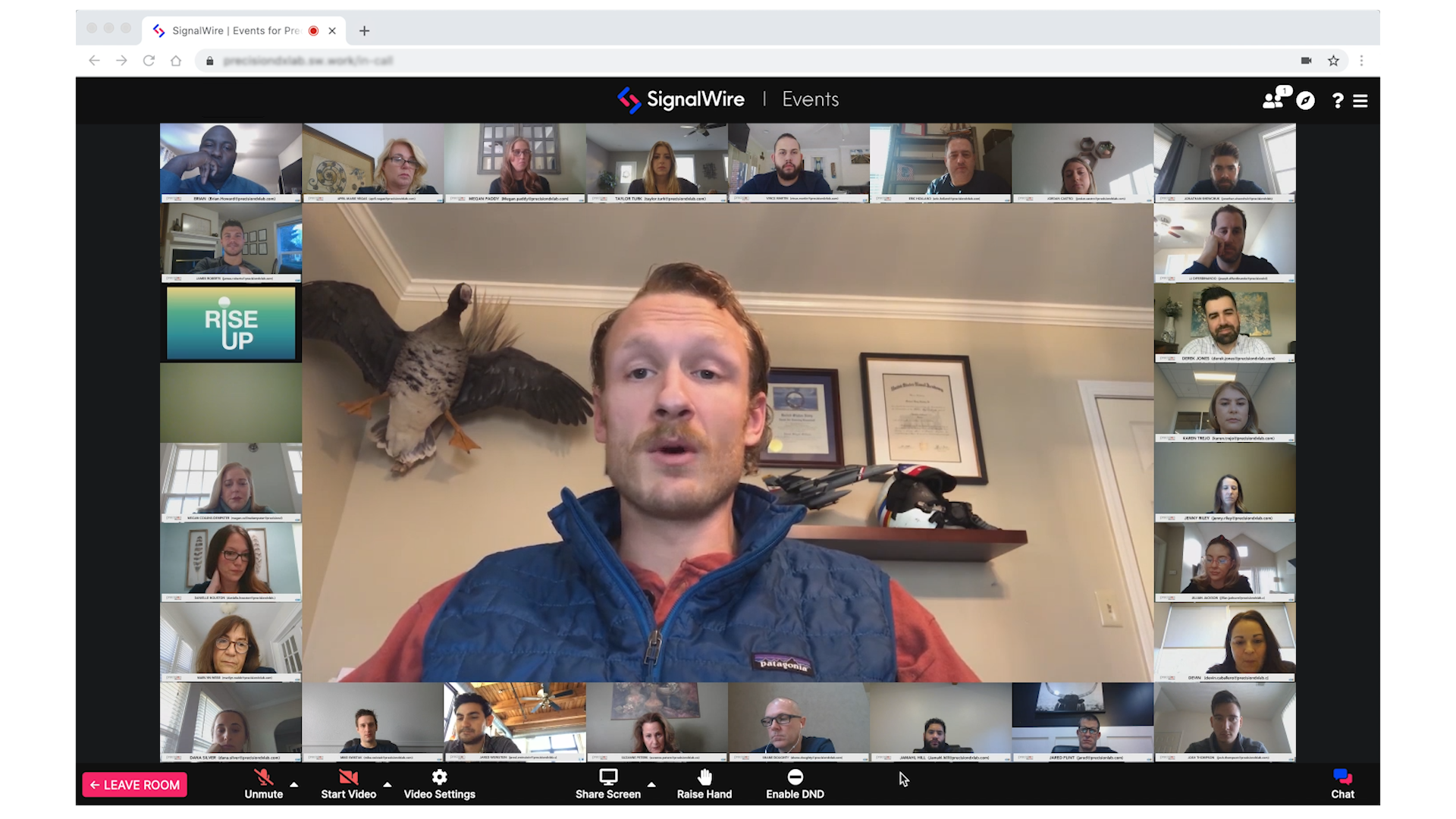 Worry about your customers and market, not about frame rates, video codecs, and latency.
SignalWire Video APIs enable video interactions for hundreds of participants or streaming to thousands of people. The SDKs allow you to join a room and start transmitting video to SignalWire Cloud immediately.
Ease of use alone is not going to win you huge markets. You need to build an application that is both helpful to your customers and differentiated from your competitors. You focus on your customers, and we will help you with the technology required to build a differentiated video product.
Helping you build innovative applications is where our unique approach to pre-rendering the video canvas in the cloud comes into play. Video streams from various participants are combined into a single canvas in the cloud. You can apply transformations dynamically to change how the final pre-rendered video stream appears to the participants. Rendering video streams in the cloud is a unique approach that unlocks some exciting applications.
Let's get the easy stuff out of the way first. Rendering the canvas in the cloud means that each participant only sends one stream up and receives one stream down regardless of the number of participants in a call. Bandwidth usage is predictable and not dependent on the number of people in a call. Since all the heavy lifting is offloaded to the cloud, your video application will run on any kind of device.
But now, let's talk about the real magic.
You can dynamically transform the video into one of many predefined layouts which meet your needs. See the following for ideas on some of the predefined video layouts available. Or you can define your own layouts. And the great thing is all participants will have the same video layout experience since all the participants receive the same cloud-rendered video stream.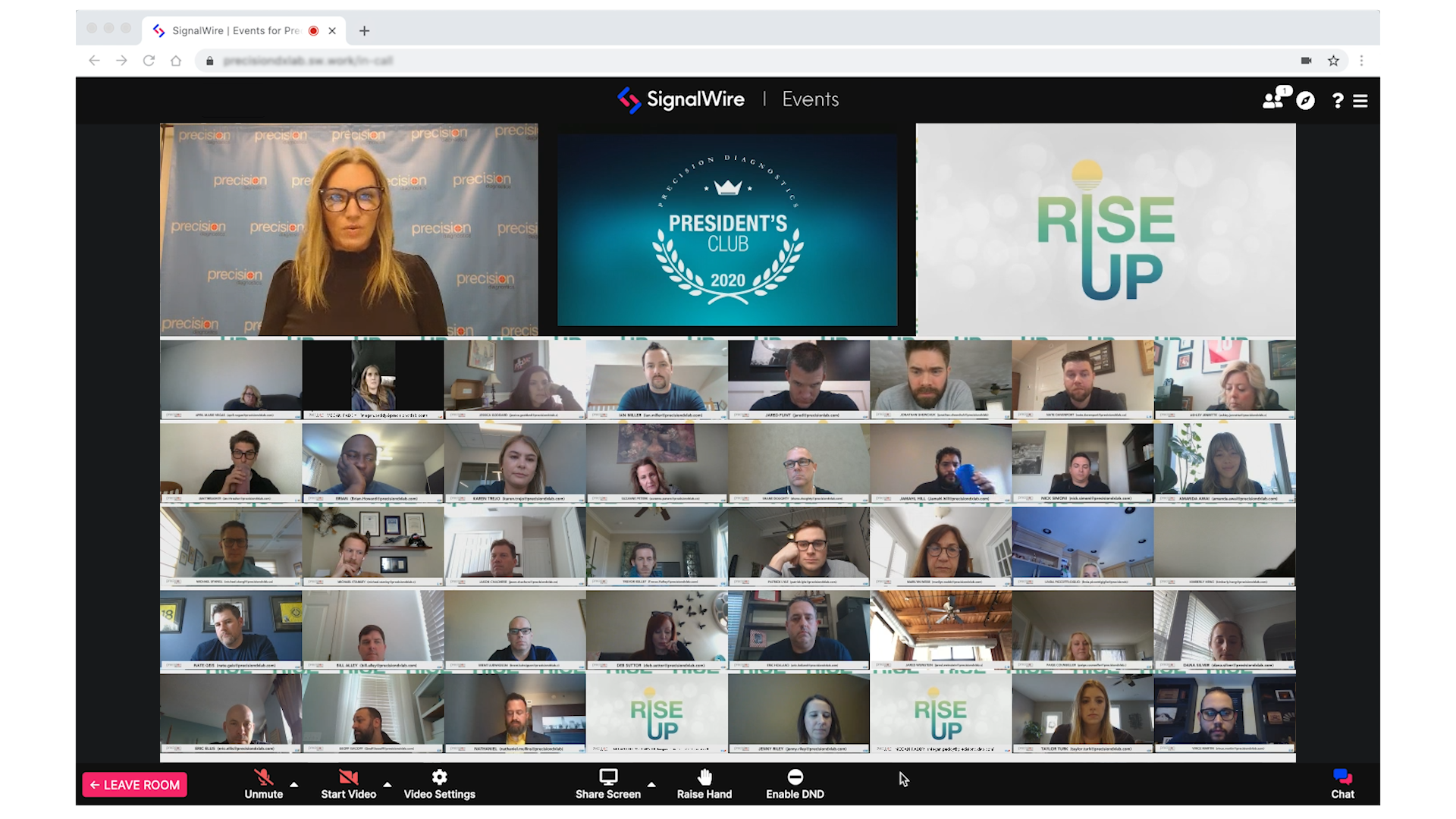 Processing video in the cloud allows you to subscribe to all the events, from all the participants, in one central place, instead of having to connect with multiple clients.
Say you want to build analytics on how often a speaker is talking. You can subscribe to the participant speaking event. If you're going to make an onboarding workflow when a new participant joins the rooms by sending them an SMS, you can subscribe to participant join (or leave) events. Of course, you can also use SignalWire Messaging API to send them an SMS!
Why trust us?
At SignalWire, we have been working with video for over three years. We have built two separate product lines around video - SignalWire Work and SignalWire Events in the last two years. SignalWire Work is a video communication platform for remote teams. SignalWire Events is a platform for hosting hybrid events where the talent and audience share an immediacy that is impossible with any other platform. Both of these products have unique and interesting features (or so our customers tell us). Now, we are unlocking the same technology to you via the SignalWire Video APIs.
And we hope that you build applications with video features that are a thousand times unique and differentiated from SignalWire Work and SignalWire Events.

Develop. Deploy. Disrupt.